Posts Tagged 'Easy'
Band camp start on Monday and we've already had tears, injuries and whining. Yeah, it's a blast! Both my husband and I volunteer in a variety of ways. One thing I help with is "feeding the band" which consists of 240 band members and staff. It's a crazy challenge that I adore.
As you can imagine, EASY is the name of the game right now for our own cooking. Easy lunches, dinners and desserts! The wonderful thing is, my very favorite cake is simple & easy. Strawberry Marble Cake is even kid friendly. Your younger chefs would love helping to poke the holes and splash in the jello.
This particular recipe came from my Aunt Cheri several dozens of years ago. I'm not even certain if she knows how much I love it! Maybe I need to jot off a not to her!
Let's face it, there are few people who don't like ranch, bacon or pasta. So what happens when you add them all together? Yeah, that's right. You get a mouth explosion of goodness!
When I make Bacon Ranch Pasta for cookouts or potlucks, someone is always asking for the recipe. Oh and I have to make extra for a certain lady at my husband's work! Those are the kind of compliments that I like receiving.
I had some cube steak in the freezer which I normally turn into Country Fried Steak. Unfortunately, that dish doesn't quite fit into the new diet. Oh, I won't give up my tasty favorite dish but for now, it will have to wait.
So, what to do with my cube steak? After poking around the internet, I came up with Swiss steak. This was a dish I knew my hubby would love. I didn't however, feel like jumping through all the steps of standard Swiss steak. Let's just say, I've "dummied down" the recipes I found!
If you want Swiss steak but are short on time, I think you'll enjoy this recipe.
Learning to like chicken is turning out to be a delight. Yes, that's right, I don't like chicken. Usually. For years, whenever I ordered chicken, I'd push it away. My husband would ask, "What's wrong with it?" I'd reply, "It tastes like chicken."
It tastes exactly like what I picture a bird would taste like. I know that sentence doesn't make any sense. and how does one get over a weird taste issue? They try hundreds of recipes until they find one that's finger licking, lip smacking good.
It doesn't hurt that I've started watching my calories and I'm actually starving at dinner time!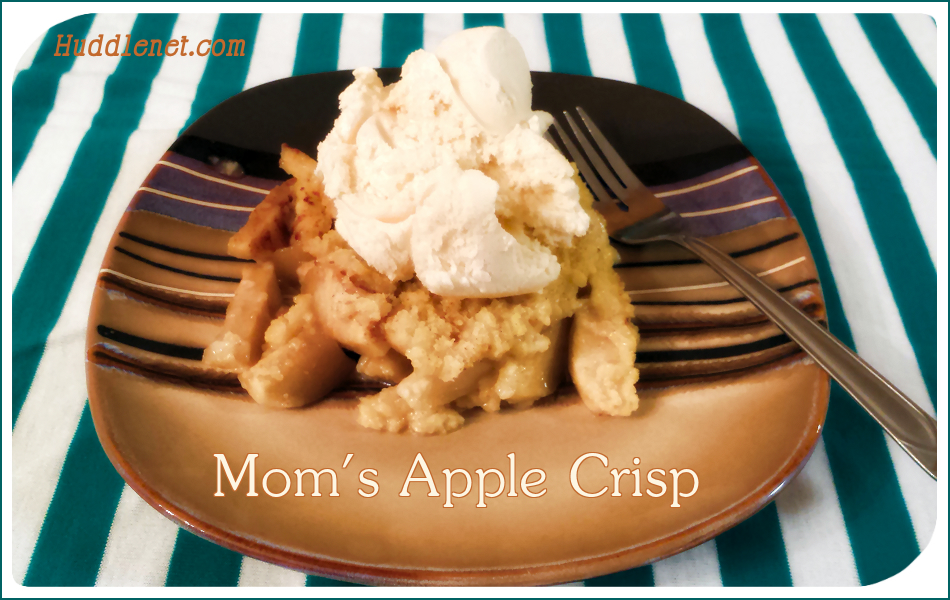 One of my favorite desserts growing up was my Mom's Apple Crisp. When I married my husband he fell in love with it too. It's sweet with a hint of tart.
This Apple Crisp does not have oats in it, which is one of the reasons I like it. I enjoy a hot steaming bowl of oatmeal and a nice struesel on a Dutch Apple Pie but I prefer my Crisp like this.
My grandparents proudly owned an apple orchard in Washington state. We lived next door until I was 7, so I was surrounded by apples. I spent many days following behind my grandpa while he did his work. I learned about smudge pots and frost warnings before I could tie my shoes. It was a huge place full of mysteries and many places to hide.
Pork Chops & Apples are a healthy way to serve a delicious meal and dessert. The juice from the apples bakes into the pork chops creating a tender meat. The apples are a bonus delight!
I've said it before and I'll say it again.. I love pork chop but my hubby generally doesn't. This is one of those recipe that he likes.
Sweet BBQ Meatballs are delicious, filling and gone before you know it! They are perfect for potlucks and large crowds.
These versatile meatballs are perfect for a variety of different recipes. The recipe makes a large batch and is perfect for make-ahead freezer cooking.
Freezer Crock Pot Pork Ribs are indescribably moist, tasty and beyond easy to make. Perfect for the middle of the week or a Sunday dinner.
Fix them immediately or freeze them for a later meal.
An easy to make, easy to customize recipe for burritos. Make and store ahead for a convenient after-school or late-night snack.
Skillet Lasagna is a mash-up of different recipes that is quick to make and tasty to eat. It makes a nice freezer meal as well.
Beef Stroganoff: Mouthwatering, delicious, tasty… just a few words to describe this flavorful recipe. Don't be surprised if there are no left-overs! The recipe is easy to make and there are several variations that could be done.