Jump to Recipe
Rainbow Popcorn looks pretty .. seriously, who doesn't like rainbows? It tastes like fruity pebbles .. and again .. seriously, who doesn't like fruity pebbles? It's also easy to make! Although, it does take a few hours to complete if you're making several batches for a bake sale.
The following recipe will make enough for you and your family to eat. If you'd like to bag it up for a bake sale, you will need to make the recipe 4 times to make about 24 2-cup bags. I used the little treat baggies that you can buy in the party section of Walmart.
Rainbow Popcorn – Mix up the colors
I used up all my Jello while making my batches which made for lots of different colors. You need only use the four basic colors to have a pretty rainbow (Berry Blue, Cherry, Lemon, Lime). You can, of course, mix it up however you like. For Christmas, I use Raspberry, Cherry, Watermelon, Lime, and Jolly Rancher Green Apple.
Lastly, you can skip drying the popcorn in the oven to make popcorn balls. After mixing your syrup mixture with the popcorn, mix all your popcorn together and make balls.
Rainbow Popcorn
A delicious & fruity snack using Jello - no marshmallows or candy melts.
Ingredients
16

Cups

Popcorn

4

3 oz. Packages

Jello

-Cherry, Lime, Lemon, Berry Blue

8

Tbsp.

Butter, divided

6

Tbsp.

Light Corn Syrup, divided

1

Cup

Sugar, divided

Food Coloring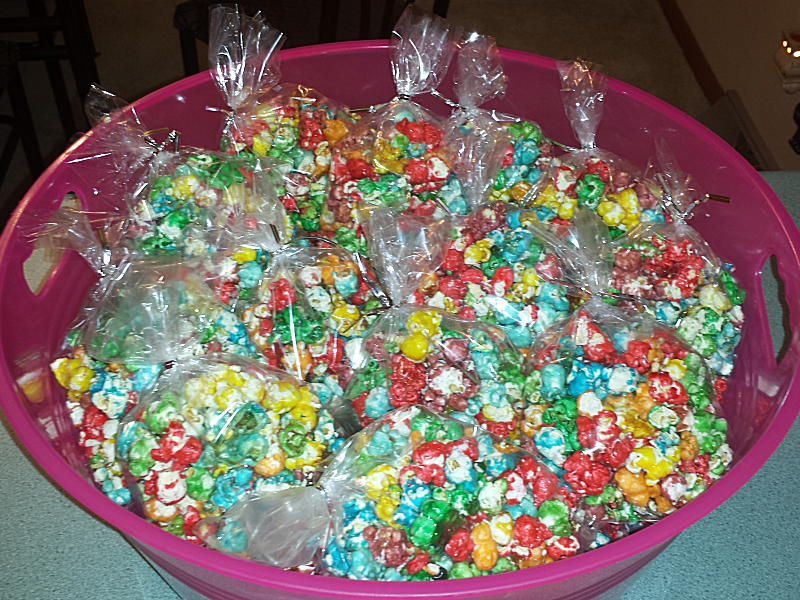 You can find the big party tub in the picture at Wal-Mart (Mainstays Party Tub).
I paid $3 for mine but they are .75 cents right now (9/10/18).